The Project
Grand Toulouse
Urban Community of "Greater Toulouse"
Web Link: www.grandtoulouse.fr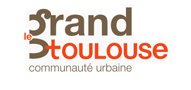 The Urban Community of Greater Toulouse (CUGT), which brings together 37 municipalities, is a leading actor in territorial development, with responsibility for areas relating to the economy and employment, innovation, transport, the fight against climate change, and solidarity.

Its creation in January 2009 was intended to help Toulouse achieve its ambition of becoming a Metropolitan area, preparing it for the challenges of the next decade.

The CUGT has launched a large number of projects that are restructuring and transforming the city, situating it at the same level as other large European cities: Toulouse Montaudran Aerospace brings together excellence in the fields of aeronautics, space travel and associated systems; the Oncopole, a research centre in the fight against cancer, a new conference centre with international scope; the Toulouse-Matabiau sector will be transformed into a "multimodal" transport interchange centre. All these projects place an emphasis on improving the daily quality of life for the inhabitants of "Greater Toulouse".

Driven by this dynamic relating to an international profile, solidarity and great attraction, the ambition of "Greater Toulouse" is, today, in motion.

Directorate of Sustainable Development and Urban Ecology of the Urban Community of Greater Toulouse.

The Department of Sustainable Development and Urban Ecology of Toulouse forms part of the General Adjoint Directorate of Urban Sustainable Development of the CUGT.

It consists of 2 departments: Sustainable development and Urban Ecology, which contribute to "building the sustainable city" for tomorrow, by considering sustainable development, its integration into an urban project on the scale of "Greater Toulouse" and the proposal of services adapted to public needs.


Ciudad de Toulouse
Web Link:
www.toulouse.fr
Toulouse is unique, Toulouse has multiple dimensions. It is an aerospace city, home to Aéropostale, Airbus, satellites and the European Ariane rocket and launch system. It is a water based city, with the river Garonne and the Canal de Midi flowing through it. It is a city of history, marked by the Cathar wars and the exile of Spanish Republicans. It is a city of innovation, thanks to research in the fields of aeronautics, space travel, computing and nanotechnologies.
A university city with international scope, Toulouse has a centre of scientific and technological excellence, with its 100,000 students and its 12,000 researchers.
Its cultural and sporting life is intense and abundant, and continues, in all of its different forms, in the centre and the outskirts of the city. With regards to rugby, the Stade Toulousain has united different generations and fired their passion for rugby for over one-hundred years. The city hosts 800 cultural events each year and increasingly large numbers of tourists, who come to discover the city.
Toulouse has taken off on its voyage to transform itself into a large European city where the intelligence of its researchers is combined with the talent of its artistic creators and economic entrepreneurs, and the generosity of its youth. It is a city through which the winds of solidarity, creativity and innovation are blowing.

Directorate of International Relations and European Projects of the Council of Toulouse
Two services::
European Projects to coordinate municipal action in the European area..

Instruction and follow up of European projects in which Toulouse participates.
Management of structural funds (ERDF/ESF).
Training and familiarisation in the field of European programmes for Council and the Urban Community services (CUGT).
Involvement of Toulouse in European networks.
Management of cooperation with European cities.

International relations

Stimulate cultural, economic and technical relations with metropolitan associations and cities linked by cooperative agreements.
Establishment and drafting of cooperative agreements between Toulouse and other international cities
Management of national and European subsidies
Organisation of international events in relation to partner cities or associations (cultural weeks, conferences, seminars, etc.)